With the increasing number of people entering the fitness revolution, the demand for fitness oriented tech wearables has increased significantly. With today's lifestyle, eating habits and sleeping patterns among the modern people, there emerges a constant need to stay fit. And managing fitness is not an easy task. This is where a fitness band comes in.
A basic fitness band will help you keep track of your daily steps, heart rate, calorie intake, sleep activity and what not. Advanced and more expensive fitness bands will even double as a smartwatch and keep you updated with notifications and calls.
Some fitness bands will provide you features like menstrual cycle tracking and safety features like SOS for emergency situations. These special features make a fitness band for women rather than the pink color shades and pretty looks which are pointless in my opinion.
Top 10 Fitness Bands for Women
We have compiled a list of the best fitness tracking bands you can find in the market for women. We have also mentioned detailed specs and features so you can choose what's best for you.

Rs. 2,599
Rs. 2,999
in stock
Flipkart
Rs. 12,490
Rs. 13,490
in stock
1 new from Rs. 12,490
as of July 2, 2022 2:17 pm
Amazon.in
Free shipping
GOQii Vital is a top selling fitness band in India. It has a very basic rectangular design which houses a color OLED display which is uncommon to see in this price range given that the fitness band goes for as low as ₹999 in sale days.
Apart from the basics, the company promises a battery life of upto 7 days on a single charge. The GOQii Vital comes with all the fitness features like heart rate monitor, sleep activity tracker, steps tracker and more. The good build quality and UI combined with fitness features up notch makes this fitness band a perfect value for money option.
Xiaomi is one of the most loved technology brands in India. People love it for the value for money products that provide top notch features at reasonable prices. The Mi Band 3 holds the exact same position. It is a basic fitness band with everything one can ask for at a competitive price of ₹1,999.
The Mi Band 3 is made out of premium materials and looks good, the straps are comfortable to wear. It comes with an OLED display with a capacitive button under the screen. All the fitness tracking functions like heart rate monitor, sleep tracking and etc. can be found on the Mi Band 3. The company promises an exceptional battery life of 20 days.
The Honor Band 4 is the latest offering by Huawei's sub brand Honor to compete with the Xiaomi Mi Band. The Honor Band 4 costs a little more at ₹2,599 and comes with a color AMOLED display.
The UI looks good for the most part and there are several fitness features including pedometer, sleep tracking, heart rate measurement and NFC support is also included. The promised battery life is 7 days with always on heart rate monitor and sleep tracking.
Amazfit is a sub brand of Xiaomi that makes smartwatches for the Indian customers. The Amazfit Cor however, is a new product that is supposed to look like a fitness tracker and double as a smartwatch to show notifications, react to them and open a few basic apps. The Amazfit Cor is also 5 ATM water resistant.
The Amazfit Cor has a 1.23 inch LCD touchscreen which was usable but the quality didn't impress us at all. Apart from the fitness tracking functions, the Cor smart band offers a few apps like Status, Notifications, Exercise, Weather, Alarm and Timer. However it was very difficult to read text messages on a vertical display.
The Amazfit Moonbeam is one the most beautiful looking fitness bands on this list. It has been designed to look as a fashion accessory and function as a fitness tracker.
It comes in 2 color options, a black and a white with gold accents. It comes in 2 color options, a black and a white with gold accents. The functions, it being a small bracelet, are limited. Moonbeam counts steps, tracks sleep, and vibrates on calls or alarms.
Another fashion accessory like looking fitness band from a company called Moov. The Moov now fitness band is a lightweight sporty accessory that offers fitness tracking functions.
There is no display on the band and certainly there is no GPS or advanced features. But the Moov Now has all the basic features like sleep tracking, step counting, cross training and run coaching. Yes this band has an audio coach function which will accompany you for training on all workouts.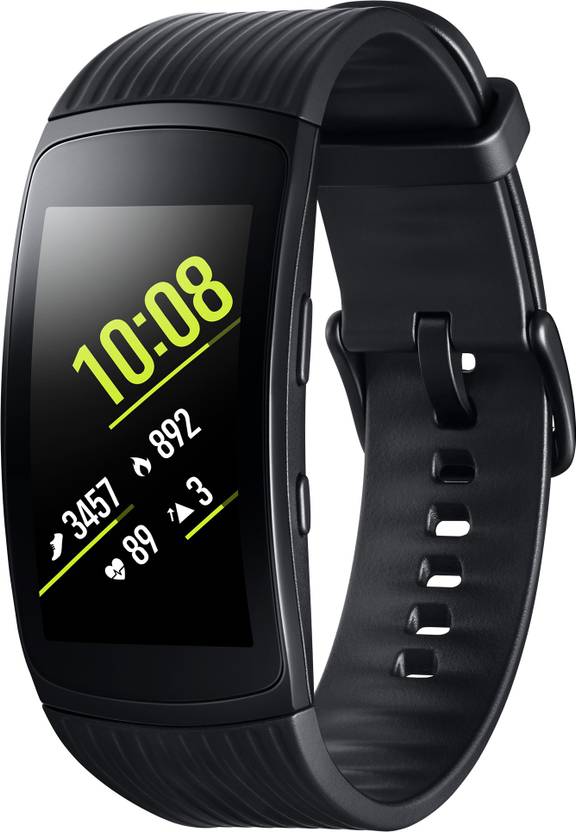 The Samsung Galaxy Gear Fit 2 Pro is a very well known product globally. Apart from being a smart fitness band, it also provides some features of a smartwatch like showing notifications and reacting to them. The Tizen OS also has a few apps that you can use.
The Samsung Gear Fit 2 Pro Smartband has a large AMOLED display and has 4GB inbuilt storage. This can be your best fitness buddy. It is also water resistant up to 50m. It has a built-in GPS and all the fitness functions you can ask for, and it works both with iOS and Android.
Garmin is one the most premium watchmakers in the industry. They recently started making smartwatches and smart bands for the enthusiast customers. The Vivosmart 4 is a slim and premium looking fitness band.
The small form factor still holds all the important fitness tracking features one can ask for. It can track all types of stuff like sleep, steps and heart rate but it lacks an onboard GPS. It is available in many beautiful colors and if you're looking for a premium and compact band, this is the one for you.
The best fitness brand known worldwide for fitness bands, Fitbit. It's well-known fitness band, the Fitbit Alta HR is a very slim and stylish fitness band which will look good on your wrist apart from providing the fitness tracking functionality.
The stylish Fitbit Alta has a heart rate monitor and also provides various other fitness options like pedometer and sleep tracking. The straps are replaceable and the battery life is excellent with 7 days of backup on a single charge.
Garmin Vivomove HR Fitness Tracking Watch is a premium watch that doubles as a fitness tracker. It looks as a classic timepiece at the first glance but holds much more functionality under the hood.
The classy looking watch comes in many colors, rose gold being my personal favourite. It provides the ease of mind of a normal watch and provides extra functionality like showing notifications and fitness tracking. The fitness results can be read on the Android or iOS app.