Bored from your old earphones or maybe your old pair of earphones did broke and looking for a new one, and chances are your budget is Under Rs. 500 and you want to experience the amazing sound?
Then this article is for you in this article we are talking about Boult Audio BassBuds Loop In-ear Wired Earphones which will cost you Rs. 399 Only on amazon and trust me they are the coolest wired earphones in the market due to its unique ear fins style and magnetic ear shells.
But We are here to found Is it Worth Buying Boult audio Bassbuds Loop Earphones Under 500 INR
Rs. 399
Rs. 1,199
in stock
1 new from Rs. 399
as of August 16, 2022 11:48 am
Amazon.in
Free shipping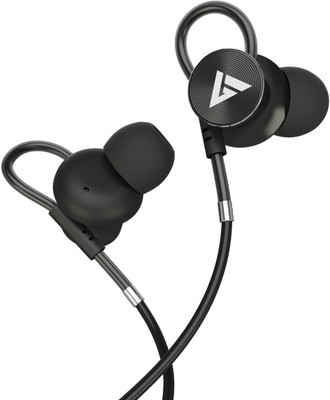 Rs. 399
Rs. 1,199
in stock
Flipkart
Build Quality & In-Box Content
Packaging if this one is pretty simple and inside the box, you will get Two extra pair of earbuds with a tie-clip and the earphones itself.
In terms of build quality, Boult Audio Bassbuds Loop Earphones are good. Shells are made of good quality plastic with magnets on the back. S0, you can magnetically connect these earphones in your neck, but there is no function of play/pause using these magnets which is not possible in this budget range.
Wired quality is also very good not easily breakable but it's not a flat style cable you you might be able to tangle this wire in your pocket.
Also See : Best Earphones Under Rs. 500 in 2020
There is just one button in these earphones and the quality of the button is very good, very clicky, and provides tactile feedback to the user.
Overall In terms of Build Quality, I'll like to give 9 out of 10.
Features
There is one button on Boult Audio Loop Earphones but it is a multifunction button you can do multiple things with this one.
Singal Tap – Play & Pause Music and Accept/Reject calls
Double Tap – You can skip to next song
Triple Tap – you can go back to the previous song
Long Press – You can activate Google Assitant or Siri on iPhone
So, Features wise under 500 it's pretty good but there is no volume control so I'll give them 8.5 out of 10.
Comfortability & fit
Your earphones slip-off from your ears every once in a while. But that is not an issue here with boult loop wired earphones they are different and come with an ear loop that is designed to hold it in your ears stably. You can use it for running, exercising, traveling, or jumping. They won't fall off your ears easily.
Because there are in-ear earphones it's very comfortable to wear and easy to fit you can use their earphones for a long time due to its lightweight design.
Microphone
They also come with a built-in microphone that lets you control the phone with your voice too. You can answer calls with it too. Microphone quality is above average So, it's Ok for the price you pay.
Sound quality
Their earphones are everything you always wanted. They have this amazing build quality, compatibility, comfortable, good microphone but how they are in terms of sound quality.
It has aerospace grade AL alloy drivers give the best acoustics, 3D HD sound, and punchy bass that's what the company said. But in real life it sounds good, vocals are sharp and clear, highs is good but in terms of lows and bass it's just good. You will not feel that bass is enhanced it's just good in this range.
So, Overall in the sound department, I'll like to give 8.5 out of 10 to boult audio loop earphones.
Verdict
I'm Impressed with Boult Audio Loop Wired Earphones, It's worth buying these due to good quality sound, build quality, unique design and easy to fit.
You can buy this from Amazon for Rs. 399 Only