VU is know known as Premium Smart TV Brand in India, they are No.1 in India in terms of 4K TV seller after an awesome Cinema TV launch now Indian television manufacturer Vu has come up with a new range of 4K TV's they called it Premium Series lineup.
VU Premium 55PM 4K Android Smart TV Review after 3 Months of Usage
We got 55-Inch VU Premium TV for Review and after using it for 3 months here is my full detailed review about it.
Build Quality
Let's Start from build quality, nowadays TV's become so cheap that all the TV manufacturing companies just care about how they can fill their tv with tons of features but no one cares about build quality. Because they just want to launch a budget TV with max features. But VU doesn't compromise here they come up with metal finish entirely.
Form front to back tv feels really sturdy and has little flex which s quite normal because it's a huge TV. 
Remote comes with this one is also very durable and feels good in the hand and remote weight balance is just superb.
The stand comes up with this one looks like made of metal but there is a point here from the inside stand is made of metal but for an outer look then gone with plastic frankly it looks average doesn't feel premium.
Overall In terms of Build Quality, I'll give 9 out of 10 to VU Premium 55PM TV.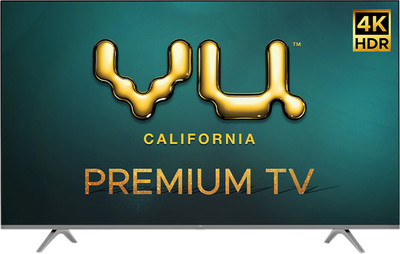 Rs. 31,999
Rs. 45,000
in stock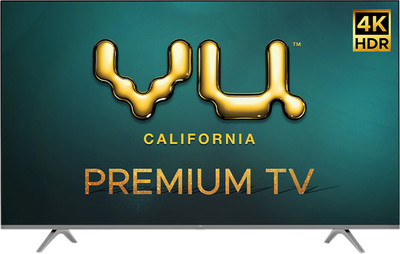 Rs. 36,999
Rs. 75,000
in stock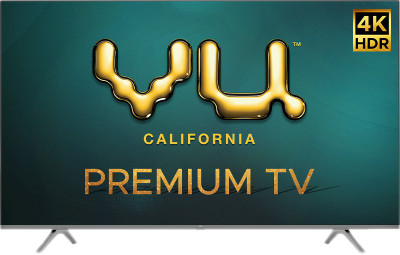 Rs. 51,990
Rs. 75,000
in stock
Also See : VU 100-Inch 4K TV
Sound Department
This VU Premium 55PM TV has 30Watt dual speaker at the bottom not front-firing like VU Cinema TV. I watched Punjabi movie on this one and sound quality seems just ok not the best i heard in this budget simply cinema TV's sound quality is much better than this one.
For music listeners I suggest go for an external sound system if you want to enjoy music videos on this big screen. 
Let's talk a bit in technical terms sound on VU Premium TV is very sharp and flat which is good for watching serials on TV, Sound lacks bass and even if you watch movies a lot on this TV you will notice that some times background sound interferes with vocals which runes the experience of some dialogs. 
Overall in Terms of Sound, I'm not impressed but for average TV users, and in this budget I'll give 7 out of 10.
Software Department
The Vu Premium 4K TV range runs on Latest Android TV 9 Pie, with support for all major apps and streaming services such as Netflix, Amazon Prime Video, Hotstar, Google Play, and YouTube and Hot Keys for all these apps is available on the remote you can easily fire up any app without going into the menu and due to hotkeys it's very easy to switch between these apps
Due to good hardware, OS feels buttery smooth on this one I also had VU Premium Android TV running on 8.0 Oreo this new one seems 40% faster than that which is really good. The one thing I love about VU Android TV's they come with stock android.
Also See: VU Ultra 4K TV Review
So, I'll like to give 10 out of 10 in the OS department
Specifications
As the name suggest, this VU Premium 55-Inch TV had 4K screen, with a screen resolution of 3840×2160 pixels. The televisions also support HDR including the Dolby Vision standard and have a claimed brightness rating of 400nits.
In terms o Internals this one had 2GM of RAM and a Quad-Core processor with Mali GPU which is good enough to run this tv smoothly. In terms of Brightness, this TV can go up to 400 nits on full screen.
Like other Android TV devices, the Vu Premium 4K TV range also has a built-in Chromecast for Google Cast support. 
Finally, talk about the star of the show > The 4K Display
All the TVs in this Premium Series range had 4K Screens and talking about my experience with 55PM model I have to say picture quality on this one is magnificent. 
I saw Samsung TV & LG TV Premium TV modals which had great displays but if you compare it side by side a normal user might not see much difference is a day to day usage unless you are very picky about color and black levels.
I have nothing to say bad about this Display colors are ok, viewing angles are good, black is deep black on this one. Colors just pop on this beautiful display.
The display is bright enough even if your room lit up with some natural sunlight from windows you can easily see everything on this TV.
So, In terms of Display, I'll give 9.5 out of 10.
The 43-inch Vu Premium 4K TV is priced at Rs. 24,999, the 50-inch variant retails at Rs. 29,999(After lockdown), and the 55-inch option costs Rs. 31,999. This makes the Vu Premium 4K TV range the most affordable & best television in India with Dolby Vision support.
So, Overall I Highly Recommend VU Premium 55-inch 4K TV to you go for it.